Due out in 2015, the documentary film 808 tells the story behind this landmark drum machine the Roland TR-808. It features a diverse range of artists from Afrika Bambaataa to Phil Collins and from Damon Albarn to Pharrell Williams .
In 1980, when the Roland TR-808 drum machine was launched, only 12,000 units were sold. It was a commercial disaster for Japanese electronics manufacturer Roland. And yet, it went on to become a defining sound in hip-hop, dance music, pop and rock, right up to present day global artists such as Kanye West and Lil Wayne. Along with the Technics 1210 turntable, it is a single model of electronic manufacturing that has utterly dominated over its competitors ( a very rare thing) whilst being elevated to cult status by all those that use it.
The Roland 808 is heard everywhere from Whitney Houston's "I Wanna Dance With Somebody", to Talking Heads "Psycho Killer". It can even be heard on Marvin Gaye's "Sexual Healing", a song that has a very special place in the hearts of Screw bloggers MacFlecknoe and Rico~San. With its booming bass beats and distinguished snares, it is within the world of hip hop and dance/club music that the Roland 808 really revolutionised music. "Planet Rock" by Afrika Bambaataa took the eerie synths of Kraftwerk and added the 808 beat to provide some serious muscle to his breakbeat experiments. Then there is Juan Atkins' – Cybotron "Clear", which laid the foundation for electro/house and completed the bridge between Kraftwerk and techno. Come the early 1990′s, it was in the bedrooms of small flats all over London laying the foundations for the Golden Age of Jungle. Of course, it is early hip hop which made the Roland 808′s name. And come the late 1980′s, the 808 was providing the fire and brimstone to Public Enemy's musical and social attack on conservative America.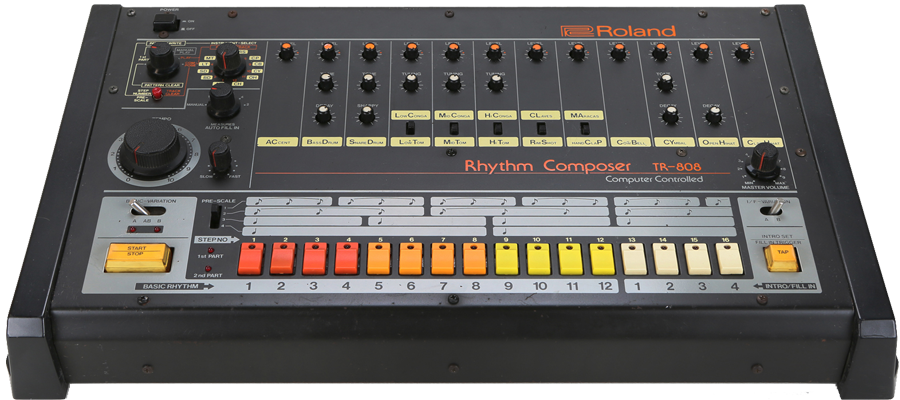 Here is iconic producer and dj A Guy Called Gerald, who only last year helped Roland in the development of new sound technology at their plant in Japan. A producer who's almost peerless track "Voodoo Ray" echoed across the acid house explosion in the UK in 1988. He explains the impact of the Roland 808 on his music: 'To explain, I was buying stuff cast out by the studios, so we'd go to second-hand shops and buy old instruments that were either broken or things no one wanted or used anymore. I had a TR-808 with no manual, just got it from the shop. I found it was easy to trigger the other machine I had, which was a Roland SH-101.
'At the time, I got into the idea that if both machines had the same name, I believed they could talk to each other. I took them apart to see what they were and I realised you could go from 'trigger out' of the 808 into the clock on the SH-101. I noticed there was a sequencer on there, but I didn't have the manual, so I was: "How do you work the sequencer? Where's the trigger that's playing the sequencer?" So it was through trial and error that I realised that you put it into the clock and that plays the sequencer. I started writing stuff, writing these little notes, but it was as if the main sequencer was in my head. I'd write things that way round at first, rather than trying to do my own melodies. It was an easy way of writing.'
A Guy Called Gerald's former bandmate Graham Massey named their band 808 State after this little piece of electronics. "The sound palette of this machine made it a cut above the other drum machines around at the time," stated Massey in a BBC4 Radio interview. "It has this devastating bass drum, which if you turn it up can absolutely shake a room."
So do as the man says and pump up the bass on your EQ to the max and enjoy this rather brilliant 1980′s electro mix from The Unknown Dj aka Andre Manuel; pioneering producer of West Coast hip hop and exponent of the Roland TR-808.
The Unknown Dj ~ Back To 80 Mix